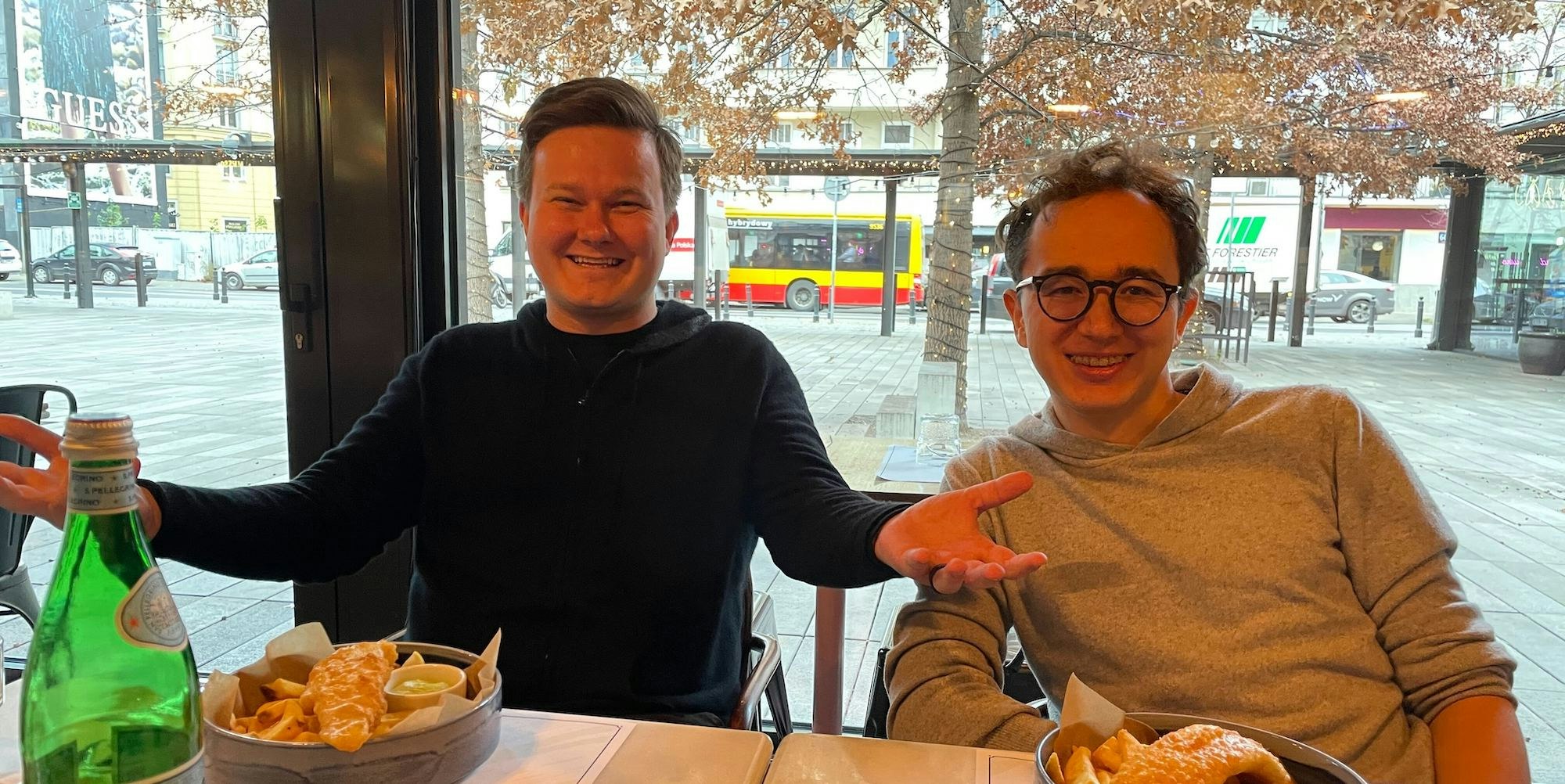 Brunch with Ramp: "We looked like idiots when we didn't want to do what FTX does"
Port Royal, one of Warsaw's most renowned oyster bars, doesn't quite look like a place you'd choose a) for brunch, b) if you're in your twenties, and c) when the industry you operate in collapses .
But here I am, surrounded by middle-aged men in suits with their platters of seafood, ready to eat my first oyster and drink champagne with Szymon Sypniewicz and Przemek Kowalczyk, the founders of Ramp, the Polish payment startup by growing cryptocurrency.
The week before we met, Ramp announcement a $70 million Series B, less than a year after its previous funding round. It's the biggest B-series in Polish tech history – and that's also impressive from an international perspective, given that crypto has only gone down since the end of last year.
But within days of Ramp's announcement, FTX, one of the world's largest crypto exchanges, filed for bankruptcy, leaving thousands of its customers without their money and wiping out the remaining trust investors had in the sector. International observers, corporations and journalists have proclaimed the end of crypto – this time, for real.
Sypniewicz and Kowalczyk, who are 28 and 29 respectively, don't seem overly worried. Before we met, my (limited) knowledge of crypto bros made me think I'd be dining with a pair of nerds who would look down on me for not fully understanding the distributed ledger, while eating oysters and playing League of Legends on their phones.
The duo has nothing to do with it. Although clearly passionate about blockchain, they can explain their ideas with simplicity and wit. They don't eat oysters either, it seems. When the waitress arrives, her order takes me a little by surprise.
"Fish and chips and diet coke, please."
The story
The two founders met in Warsaw at the start of their university years — one studied law, the other physics — at a meeting of the Polish Libertarian Party. "It was obvious that cryptography is something interesting," says Sypniewicz. He saw it as a tool for social change and a way out of the control of institutions. "Because of our political affiliations, we observed it quite closely. I decided that I can't not to be in this area.
They launched several unsuccessful startups and worked for another crypto project where the idea for Ramp was born. They wanted to build technology that acts as a doorway – or a ramp – between traditional businesses and the crypto world. Without such a solution, they believed, cryptocurrencies could never operate in a decentralized way.
What they've built with Ramp allows crypto wallets, exchanges, NFT marketplaces, and gaming companies to integrate crypto payments infrastructure into their existing systems so users can buy crypto assets without having to upgrade to other apps.
Ramp's first "serious" office (one-and-a-half-year-old accelerator offices don't count) was in the same building we're in today.
The office was "a concrete bunker with no windows," Kowalczyk explains. "We were expanding but wanted to save money – and offices with windows were very expensive."
At the time, they did not frequent Port Royal. "We didn't come here. We went there," says Kowalczyk, pointing to the nearby food court, which serves burgers, fries and sausages. "We thought that one day it would be great to come here," he smiles.
There's also a story behind the delicious fish and chips we eat – served with mashed peas (or mashed potatoes for the Brits). "It was our London meal. What's fast, cheap, safe and in a bar? Fish and chips," says Kowalczyk. "I remember after our first visit to Seedcamp [a VC firm] to kick off we went to a stand and bought some fish and chips and we were so happy. We had been cold, because it was in London, so we had been blown away, and it was hot there, and I said, "It's [the pitch] somehow went well.
FTX Drama
It went better than good. Seedcamp led Ramp's first seed round in 2018, then participated in follow-up rounds in 2019 and 2021. A few months later, the startup raised a $52.7 million Series A top investors like Balderton and NFX. At this point, VC interest in Ramp wasn't all that surprising – 2021 has been a great year for crypto, and in November of the same year, bitcoin's value hit all-time highs.
But then things went downhill for the high-profile sector: Cryptocurrencies lost value and crashed, while European companies like Blockchain.com and Bitpanda had to do massive layoffs. By November 2021, the global crypto market had surged to almost $3,000,000,000 – only to lose two-thirds of its value by mid-2022, as inflation and a bleak economic outlook deterred investors.
"When we saw the news [about FTX's collapse] we thought: well, it had to happen. We were not surprised"
Ramp, however, has been steadily growing: so far in 2022, transaction volumes have increased by almost 240% compared to the same period last year. The total number of unique users has increased by more than 600%. Its partner base includes gaming companies like So rare and GameStop, Opera web browser and Ethereum Trust Wallet. It's integrated with the world's leading payment methods, including debit and credit cards, bank transfers, Apple Pay, and Google Pay. And, just months after his Series A, he raised another $70 million.
Then the FTX drama unfolded. The crypto exchange filed for bankruptcy in November and lost billions of dollars in client assets.
"When we saw the news, we thought: well, this had to happen," says Sypniewicz. "We weren't surprised. For a long time, we feared that much of the crypto market was dominated by entities that operate against the fundamental idea of ​​blockchain technology.
Exchanges like FTX are easier for ordinary people to access and have a much less arduous onboarding process, say the founders of Ramp.
But middle-of-the-road platforms like FTX don't put people in control of their money — unlike the decentralized wallets that are Ramp's clients, they say.
"Our technology is about leveling the playing field," says Sypniewicz.
"The idea of ​​centralized exchanges is contrary to what we are doing," adds Kowalczyk. "We work with wallets that enable self-sovereignty…Centralized institutions, such as FTX and Celsius, are not the Web3 or the crypto we believe in and dream about."
"We looked like fools when entities like FTX grew parabolically. We were asked if we [wanted] to set up a crypto exchange. We never shot"
A lot more people could now – finally – come around to that view too.
As they were developing their product, people often wondered why Sypniewicz and Kowalczyk hadn't just created another exchange. "We looked like idiots when our partners were growing at a very impressive rate…and entities like FTX were growing parabolically. We were asked if we [wanted] to set up a crypto exchange, something like FTX, if that wasn't a better deal. We've never shot that way," adds Sypniewicz.
For a long time, people only saw the difference in growth between crypto exchanges and the more dispersed crypto payment solutions. "People didn't see the difference in quality, they saw the difference in quantity: 'Oh, you're a smaller Coinbase'. No, it's something fundamentally different and now you can see how," says Kowalczyk.
Is there a future?
The breakfast brunch is now past its allotted time, but I still have many questions about the future of Ramp – and crypto as a whole. The difference between Ramp and exchanges might be huge, but they operate in the same space – which is, for now, backwards.
"In the short term, that will be a problem," Sypniewicz says, sipping his espresso after the meal. "A lot of people will get burned, a lot of people will lose their confidence, some of the opportunities that we predicted for the next 12-18 months will come later because everything has to calm down.
But in the long run, Ramp sees the fallout from FTX as an opportunity. "It had to happen eventually and it will be good for the whole industry," adds Sypniewicz.
"If you believe in what we believe in, it's obvious to you that crypto integration will absolutely be one of the biggest fintech verticals in the world," says Sypniewicz. "If you think that Web3 will be like the Internet, and Ethereum will be an analogue of http, and at the same time you think that crypto will not win the whole world: your salary will always be paid in złoty and your government will always demand that you pay taxes in your currencies, then the transition point from one world to another is the hottest, biggest and most monstrous corporations in the world," he says.
"If you don't believe it, it will still be big and very successful, because there's still an appetite for using Web3." We are already a big company, we will grow 10 times on what exists. But if you imagine this sector will achieve what we imagine it will achieve, then the size of the pie is unimaginable.
Zosia Wanat is Sifted's Central and Eastern Europe reporter, based in Warsaw. She tweets from @zosiawanat